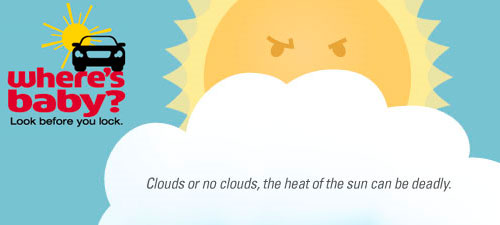 While the full scope of the fatalities of children due to heatstroke in vehicles is not fully known, NHTSA and other safety advocates and academic institutions have recognized the safety threat heatstroke poses for young children left in hot cars. Together, the Federal Government, automakers, car seat manufacturers, health and safety advocates, consumer groups, and others are working together to tackle this important safety issue."

- safercar.gov
Heatstroke is the leading cause of non-crash-related fatalities for children 14 and younger.
From 1998-2013 606 children died due to heatstroke, representing 61 percent of total non-crash fatalities in this age group. Of the 606 deaths:

52% were forgotten in the vehicle.
29% gained access by themselves and became trapped
18% were left intentionally
1% were unknown cases

In 2013 44 children died of heatstroke in the U.S.
Children are at a higher risk than adults of dying from heatstroke in a hot vehicle especially when they are too young to communicate.
A child's temperature heats up 3 to 5 times faster than that of an adult's.
Get involved and find more resources, facts, and helpful tips available below: