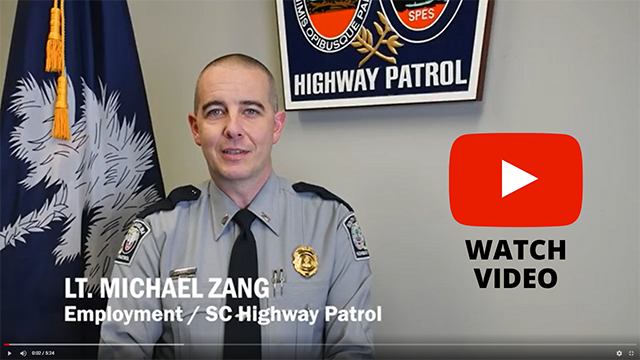 Employment Process
Phase 1
Testing – Physical Ability Test and Nelson Denny Written Test (Same Day)
Polygraph Examination
NOTE: If you are a South Carolina Class 1 Officer you will not be required to take the Nelson Denny.
Phase 2
Background Investigation
Professional Interview (Oral Interview Board)
Phase 3
Medical Testing
Employment Offer
After a review of your application, you will be sent an e-mail detailing the next steps in the employment process. Start gathering the items now, and have them ready to be submitted once you start phase one. 
Copy of high school diploma or GED certificate.

Certified copy of college transcripts (if applicable)

Copy of DD214 if you have served in the military

Copy of birth certificate or naturalization certificate (if applicable)

Copy of your South Carolina driver's license

If you are an out-of-state applicant with a driver's license from a different state, you will need to submit a certified copy of your driver's license for that state and any other state you have held a license in within the past five (5) years.