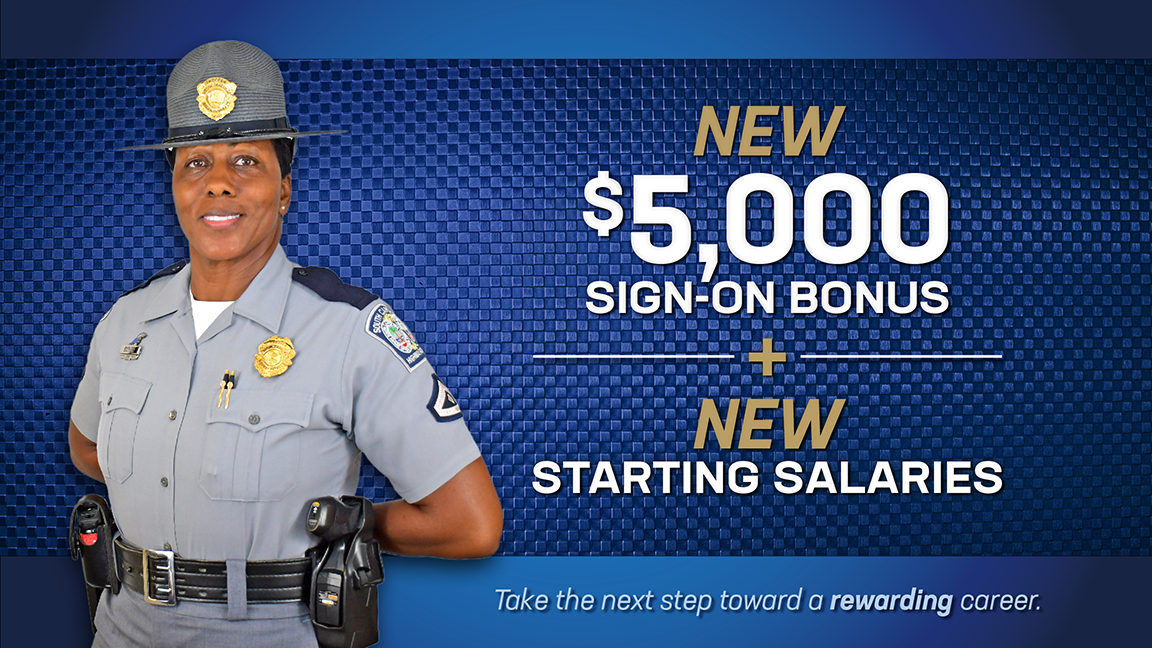 Want an exciting and rewarding career?
If you are looking for a rewarding, fast-paced and exciting career, then applying to one of South Carolina's largest law enforcement agencies is your answer!
Why choose the SC Highway Patrol?
There are many reasons why you should choose the SC Highway Patrol:
$5,000 Sign-On Bonus - NEW (see FAQs below)
Salary & Benefits - NEW (Effective June 2, 2023)
See the SC Highway Patrol in action.
How do I receive the $5,000 sign-on bonus?

The $5,000 sign-on bonus is available to all newly hired troopers (uncertified, certified and rehires who have been separated from SCDPS for at least 6 months). Upon successful completion of all established training requirements, payment will be divided into two separate payments of $2,500. One payment will be provided after the completion of all required training and the second $2,500 payment will be provided after the successful completion of 18-months of continuous employment with the South Carolina Department of Public Safety. 

What if I can't find my Birth Certificate/High School Diploma/DD214, etc. before my testing date?

You will need to obtain each document listed, however, if you are unable to have them before your testing date, please let us know and we can work with you or reschedule you for a later date to give you more time.

What is the length of time at the CJA and SCHP Training?

Training is currently 23 weeks for uncertified applicants and 7 weeks for pre-certified South Carolina Class One Officer applicants. (1 week of orientation and 6 weeks of SCHP training).

I just applied, what should I expect next?

If your application passes the minimum requirements, look for an e-mail or phone call within the next week or so with more information from the SCHP Employment Office. Be sure to check your spam and junk e-mail box as well.

Do you accept out-of-state law enforcement? 

Yes. Certified out-of-state law enforcement officers will receive credit for LE service time. The out-of-state LE service time must be as a certified law enforcement officer who has completed a basic training course/class equivalent to SC LE Class 1 with provided documentation. Applicants will be required to complete a Special Basic course at the SC Criminal Justice Academy to transfer their LE Certification. The applicant may be eligible for up to 15 years of law enforcement service time to determine a starting salary. Learn more on SCHP's salary and benefits breakdown on this webpage.

Do candidates get to select their duty locations?

Candidates may choose as many counties as they are eligible for based on the agency's residence policy if they are unable to relocate or can choose to work anywhere in the state if they are willing to relocate.

Is there an age cap?

The South Carolina Highway Patrol does not have an age restrictions so long as the recruit can complete all physical testing requirements. 

Do you have to stay at the academy during training?

Yes, all recruits will stay at the academy from Sunday evenings to Friday afternoons. Trainees are required to leave during the weekends due to the academy being closed.

Are you paid during training?

Yes, trooper trainees will receive pay and benefits from the date of hire. 

How should I dress for my scheduled PAT test?

Dress as you would to work out or exercise, including proper footwear.
Ready to join the SC Highway Patrol?
Learn more about the training you'll receive!