Real Heroes Don't Wear Capes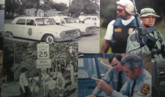 In the glamorous world of movies, television, and novels, few topics are more popular than Law Enforcement. It's the classic tale of good versus evil, where the good guy stands up for what's right, and combats the criminal elements that seek to undermine the law. But what do we really know about the real world of Law Enforcement? What are their day-to-day duties? How are they organized? How has Law Enforcement evolved over the years?
The answers to these and hundreds of other questions can be found at The South Carolina Law Enforcement Officers Hall of Fame. Visitors can experience the history of South Carolina law enforcement up close, and have the chance to see historic equipment, seized contraband, weapons, badges and uniforms, even a restored 1955 Ford SC Highway Patrol car!
The South Carolina Law Enforcement Officers Hall of Fame was established by legislative act in 1974, with a primary purpose of honoring those South Carolina law enforcement officers who have died in the line of duty. This purpose is accomplished via the Memorial Room located in the rotunda. More than 400 officers who made the ultimate sacrifice since 1797 are honored with an individual plaque, photo, and descriptive information. The Hall of Fame's secondary purpose is to honor all officers in the day-to-day performance of their duties, which is accomplished through interpretive exhibits and the museum collection.
Police, Sheriff's Deputies, and various state law enforcement officers...these are the men and women who serve and protect our communities. Come learn more about what they do to keep us safe.
Our Hours of Operation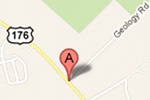 Admission: Free to the public. Walk-ins are welcome. Handicap accessible. Guided group tours available by prior arrangement. School tours (3rd grade and up) are encouraged.
Location: 5400 Broad River Road, Columbia, SC 29212 (adjacent to the SC Criminal Justice Academy)
Hours: Open Monday thru Friday, 8:30 AM to 5:00 PM. Closed weekends and state holidays
                                        Contact: Telephone...(803) 896-8199 Fax...(803) 896-8067