A Proud History and an Exciting Future
The South Carolina State Transport Police (STP) is the premier law enforcement division in South Carolina for enforcing both federal regulations and state laws pertaining to commercial motor vehicles.
The South Carolina State Transport Police was created in 1993 as a division within the Department of Public Safety as a part of state government restructuring. The mission is clear. The goal is simple: zero large truck and bus collisions for South Carolina.
STP works hand-and-hand with all divisions of the Department of Public Safety, including the Highway Patrol and the Bureau of Protective Services. In order to fulfill its mission of commercial motor vehicle safety, STP works in close partnership with the Federal Motor Carrier Safety Administration, Federal Highway Administration, other state and local law enforcement agencies. 
Although STP officers specialize in commercial motor vehicle enforcement, they also enforce state traffic laws for non-commercial drivers regularly.
Tradition Meets Technology
Our officers work throughout South Carolina's 46 counties, patrolling all our highways and interstates for unsafe commercial motor vehicles and commercial drivers, as well as all unsafe vehicles to help protect the public daily. Through our many permanent scale facilities and all of our roadside enforcement efforts, STP conducts on average 48,000 inspections per year. Out of these enforcement efforts, more than 14,000 unsafe vehicles and drivers are removed from our roadways each year.
Why become an STP Officer?
If you are seeking employment in a fast paced, diverse environment, while working outdoors and interacting with the public, applying to be an STP officer could be one of the most rewarding decisions you will ever make. Other incentives include:
See the State Transport Police in action.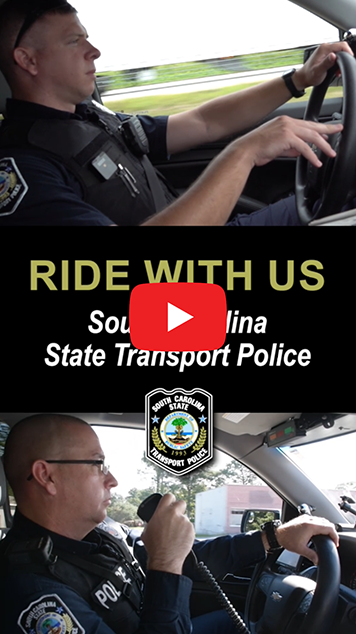 Do you qualify?
At least 21 years of age before day one of Basic Training
You must have a valid South Carolina Driver's License or a valid Driver's License from your current State
US Citizen
High School Diploma or GED
20/20 vision OR no more than 20/200 corrected to 20/100 or below
NO CRIMINAL RECORD
Driving record should be clear of any suspension for the last 5 years as a result of alcoholic beverage or dangerous drug violation, or leaving the scene of an accident. The overall driving record will be evaluated placing emphasis on the severity, date and age, time span, and number of violations accumulated.
View Employment Disqualifiers and Tattoo Policy