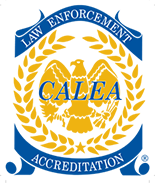 The Department of Public Safety received its initial accreditation in 1998, and is the largest law enforcement agency in the state to receive this prestigious recognition. Since then, the Department of Public Safety has continually maintained its accredited status, and in November 2013 was awarded Accreditation with Excellence along with the Meritorious Award through the Commission on Accreditation for Law Enforcement Agencies (CALEA), Inc. 
The accreditation process benefits our officers, as well as civilian personnel by strengthening training, enhancing officer safety, decreasing agency liability, and ensuring uniformity in our hiring practices. The distinction as an internationally accredited agency strengthens the confidence of stakeholders and the communities we serve in our ability to professionally deliver services. 
CALEA was created in 1979 to develop a set of law enforcement standards and to establish and administer an accreditation process through which law enforcement agencies could demonstrate voluntarily that they meet professionally recognized criteria for excellence in management and service delivery. 
Learn more about: the Commission on Accreditation for Law Enforcement Agencies, Inc.