Thu, 11/17/2022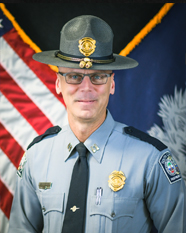 The South Carolina Department of Public Safety has promoted Dennis Boniecki to serve as Commander of Troop Six for the South Carolina Highway Patrol. Troop Six includes Beaufort, Berkeley, Charleston, Colleton, Dorchester and Jasper Counties.
Captain Boniecki, who served as a lieutenant in Troop Six for nearly eight years, was named Troop Six Commander to succeed Captain Shawna N. Gadsden, who is retiring after nearly 30 years of service with the Highway Patrol.
"I have no doubt that Captain Boniecki will continue the successful leadership that Captain Gadsden has instilled in the men and women who serve Troop Six. Captain Boniecki has served a majority of his time with the Highway Patrol in this area, and he has strong working relationships with community leaders and the general public. I know this will serve him well as he assumes his new leadership position," says South Carolina Highway Patrol Commander, Colonel Christopher N. Williamson.
Captain Boniecki has served his entire law enforcement career with the South Carolina Highway Patrol, beginning in 1998. A majority of his career with SCHP has been serving the Troop Six area. Boniecki is a native of New Jersey, but has resided in the Low Country for many decades with his wife, Kelli Boniecki. Captain Boniecki honorably served in the United State Army National Guard for six years.
---
The South Carolina Department of Public Safety includes the Highway Patrol, State Transport Police, Bureau of Protective Services, Office of Highway Safety and Justice Programs, and the South Carolina Law Enforcement Officers Hall of Fame. Our mission is to ensure public safety by protecting and serving the people of South Carolina and its visitors.