Wed, 03/23/2016
COLUMBIA – The South Carolina Department of Public Safety held a ceremony today honoring troopers from around the state for exceptional service in 2015. SCHP also recognized Telecommunications Operators from around the state for the support they provide to the Highway Patrol and other DPS law enforcement divisions.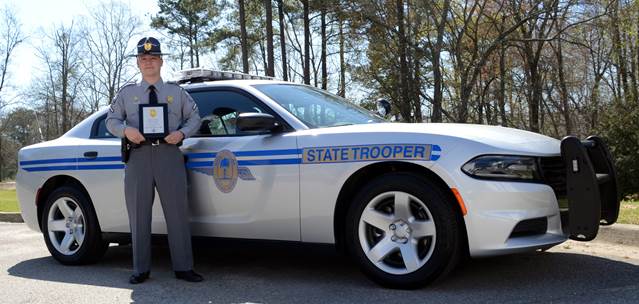 S/Tpr. Gabriel M. Colbert (above), of Lexington County, received the South Carolina Highway Patrol Trooper of the Year award. He was chosen from among 13 other nominees from around the state. Colbert, assigned to Troop One/Midlands, was recognized for his efforts in saving the lives of three out-of-state motorists, including a 2-year-old child, during the "1,000 Year Flood Event" in 2015.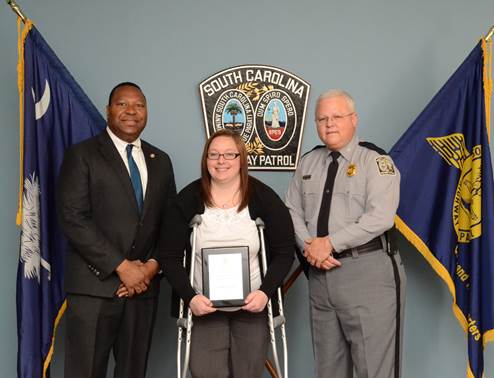 TCO Shatara Park (above) of the Charleston Telecommunications Center was chosen as the overall Telecommunications winner. She was recognized for the outstanding work she does each day to support troopers and other law enforcement as well as the motoring public.
"Last year was especially difficult for our men and women who serve and protect," said SCDPS Director Leroy Smith. "This ceremony is an opportunity to pause, reflect on 2015 and say thank you to some well-deserving public servants." 
SCHP Col. Mike Oliver said:
"We are indebted – as an agency and state -- to the men and women on the front lines who put their lives on the line each day to keep us safe and to the support personnel who stand behind them."
Overall Statewide Winner:  South Carolina Highway Patrol Trooper of the Year 
S/Tpr. Gabriel M. Colbert, Troop One,  Post D
Troop One (all are assigned to Post D/Richland County):
S/Tpr. Gabriel M. Colbert (residing in Lexington Co.)
Cpl. Joseph C. Elliott (residing in Lexington Co.)
S/Tpr. Katherine E. Bradacs (residing in Lexington Co.)
S/Tpr. Brian N. Trotter (residing in Lexington Co.)
Troop Two
Cpl. Chad M. Edwards, Post A/Laurens/Newberry (residing in Laurens County)
Troop Three
L/Cpl. Ronnie D. Manley, Post D/Spartanburg (residing in Spartanburg County)  
Troop Four: 
S/Tpr. Paul M. Wilkins, Post A/Cherokee/Union (residing in Cherokee County)
Troop Five: 
L/Cpl. Ian A. Scott, Post C/Georgetown/Williamsburg (residing in Clarendon County)
Troop Six:
Tpr. Travis L. Clemens, Post B/Colleton/Dorchester (residing in Charleston County)
Troop Seven:
Tpr. Freddie D. Rice, Post B/Calhoun/Orangeburg (residing in Orangeburg County)
Troop Eight:
L/Cpl. David Harrison, Upstate Interdiction (residing in Upstate)
Troop Nine:
Lance Corporal Bryan C. Ridgeway,  MAIT Midlands Region (residing in Richland County)
Troop Ten:
L/Cpl. E. Scott McMahan, Insurance Enforcement Unit (residing in Oconee County)
Troop Eleven:
Lt. Derrick J. Gamble, SCHP Training (native of Sumter County)
Overall Telecommunications Operator of the Year Winner
TCO Shatara Park, Charleston Telecommunications Center
Telecommunications Winners:
Blythewood Telecommunications Center: Von Legrand (Lee) Carrigg, Jr. (residing in Bamberg County)
Charleston: TCO Shatara Park (residing in Dorchester County)
Florence: TCO Eunice McLain (residing in Marlboro County)
Greenville: TCO Tamesha Strong (residing in Greenville County)
---
The South Carolina Department of Public Safety includes the Highway Patrol, State Transport Police, Bureau of Protective Services, Office of Highway Safety and Justice Programs, Immigration Enforcement Unit and the South Carolina Law Enforcement Officers Hall of Fame. Our mission is to ensure public safety by protecting and serving the people of South Carolina and its visitors.