Fri, 06/30/2017
Christopher Williamson, center, a native of Darlington County, was named Commander of the South Carolina Highway Patrol today. He is pictured with Michael Oliver (left) who retired today as Colonel and Director Leroy Smith.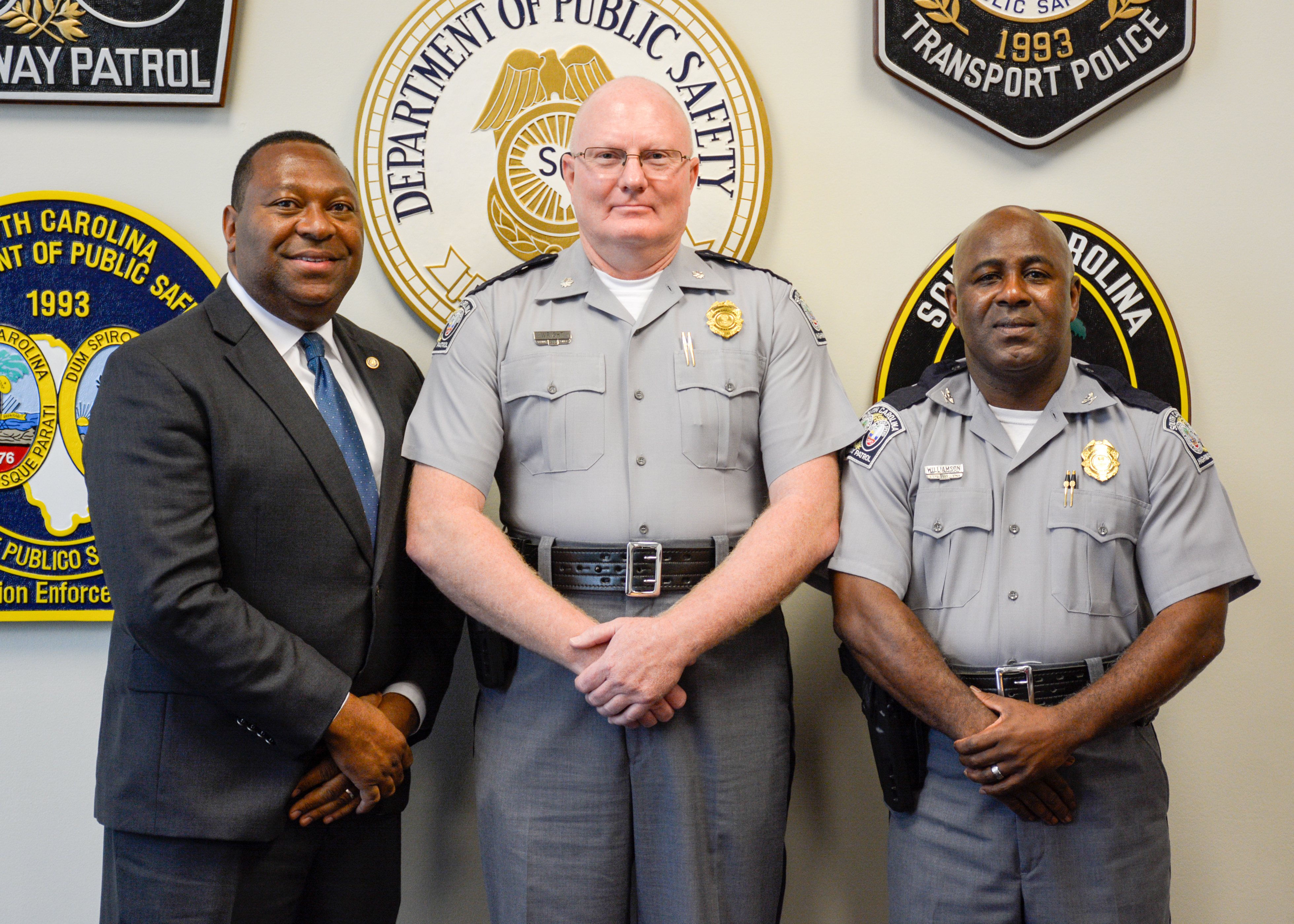 COLUMBIA -- The South Carolina Department of Public Safety announced today that Director Leroy Smith has named a new Highway Patrol commander. Christopher Williamson, a 29-year Patrol veteran, was chosen to succeed Col. Michael Oliver who is retiring after 35 years with the Highway Patrol.
Colonel Williamson makes history as the first African-American commander to lead the South Carolina Highway Patrol. Oliver was promoted to lead the Highway Patrol in 2011, and Williamson was named as the deputy commander of the division where he has served since.
Marc Wright, a 35-year veteran, has been named deputy commander of the South Carolina Highway Patrol. He has been serving in the role of major since 2012. He has extensive experience in administration, field operations and resource management.
"This is both an exciting and bittersweet day," said SCDPS Director Leroy Smith. "We welcome an enthusiastic and visionary leader in Col. Williamson. But we will miss Col. Oliver who has led the Highway Patrol with strength and integrity – often through difficult seasons for law enforcement in our state and nation," Smith said.
Williamson worked alongside Col. Oliver during critical times such as the 1,000 Year Flood, Hurricane Matthew and events following the Emanuel Nine shootings. He has been instrumental in important infrastructure and technological advances within the Highway Patrol.
Col. Williamson, a Darlington native, joined the Highway Patrol in 1988. He was promoted to captain in Troop Seven/Orangeburg in 2003 and transferred to Troop Six/Charleston as captain in 2009. Williamson began his career in Berkeley County and has spent his career with the Patrol in the Orangeburg/Charleston region until joining headquarters in 2011.
As lieutenant colonel, Williamson managed the day-to-day operations of the Highway Patrol, which has statewide jurisdiction. Williamson oversaw the administrative, operational and support functions of the Patrol associated with enforcement and public safety. He has also overseen traffic/specialized enforcement and safety outreach for 11 Troops.
Williamson is married to Deloris Williamson and has two daughters, Krissy and Daysha, and two granddaughters, Kristina and Kailyn.
"With this new role comes great responsibility to the citizens and visitors of this state and to the troopers and civilian personnel of the Highway Patrol," Williamson said. "My primary goals are to continue creative enforcement and safety education efforts to reduce highway fatalities and collisions; to work diligently to ensure our men and women are recruited, retained and compensated fairly for the dangerous and difficult job they do; and to continue to enhance our relationships with the communities we serve."
Oliver is credited with advances in training to meet a rapidly evolving law enforcement climate. All enforcement troopers are now trained in civil emergency response -- mobile field force and active shooter response -- which allows more boots on the grounds in times of civil disturbance or crisis. This was battled-tested in 2015 when troopers augmented manpower at the Statehouse for months to ensure peace at the following the Emanuel Nine shootings in Charleston and the removal of the Confederate Flag from the Statehouse grounds.
Oliver also was instrumental in pushing through a virtually across-the-board pay raise in 2015 for troopers in an effort to boost recruiting and retention. The starting salary for a new trooper increased from $29,910 to $38, 273 and to $42,100 for prior-certified officers. Col. Oliver also led the mobile data project including e-ticketing and e-collisions, which brought technology to troopers' vehicles. This mobile office reduced travel time to and from the office and maximized time spent on the road conducting proactive enforcement.
Oliver also received the Strom Thurmond Award for Excellence in Law Enforcement and served as the chair of the Southern Region of State and Provincial Police Division of the International Association of Chiefs of Police and currently serves on the IACP Communications and Technology Committee. He is past president of the SC Law Enforcement Officers Association.
"I have been fortunate to serve the Great State of South Carolina during a time that saw many changes in policing – both in South Carolina and across the nation," Oliver said. "It has been my great privilege to work with an outstanding group of professional men and women. I am confident that the Patrol has an exciting future ahead and feel honored to have been a part in leading this division."
---
The South Carolina Department of Public Safety includes the Highway Patrol, State Transport Police, Bureau of Protective Services, Office of Highway Safety and Justice Programs, Immigration Enforcement Unit and the South Carolina Law Enforcement Officers Hall of Fame. Our mission is to ensure public safety by protecting and serving the people of South Carolina and its visitors. www.scdps.gov