Mon, 09/16/2019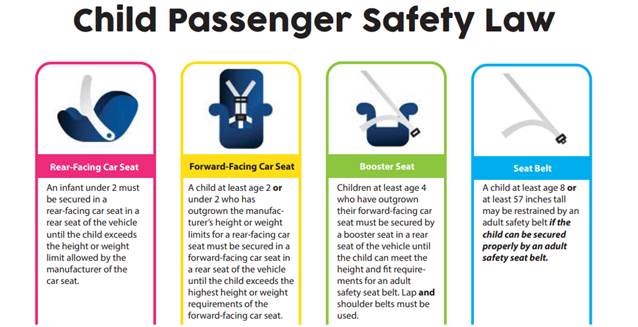 COLUMBIA – The South Carolina Department of Public Safety announces that September 15-21 is national Child Passenger Safety Week. Every day in South Carolina, thousands of parents and caregivers travel with children in their vehicles. While some children are buckled up properly in the correct car seats for their ages and sizes – many are not. According to the National Highway Traffic Safety Administration (NHTSA), nearly half (46 percent) of all child safety seats are not properly used or installed.
To help combat this issue, the South Carolina Department of Public Safety (SCDPS) will join the National Highway Traffic Safety Administration (NHTSA) in this annual campaign dedicated to helping parents and caregivers ensure their children are buckled up and riding safely -- in the right seat-- every trip, every time. The week culminates with National Seat Check Saturday on September 21.
"Every 19 minutes in South Carolina, a child under 13 is involved in a passenger vehicle crash," SCDPS Director Leroy Smith said.  "Using car seats that are age- and size-appropriate is the best way to keep your children safe."
Motor vehicle collisions are a leading cause of death for children. Car seats, booster seats, and seat belts can make all the difference. In 2015, NHTSA reports about 25.8 percent of children 4 to 7 who should have been riding in booster seats were prematurely moved to seat belts, and 11.6 percent were unbuckled altogether.
"Even if you think your child's car seat is installed correctly, we would highly recommend taking a few minutes to get it checked with a certified Child Passenger Safety technician, so you can be sure that your child is the safest he or she can be while traveling," said South Carolina Highway Patrol Col. Christopher Williamson.
According to the SC Child Passenger Safety Law, infants under two years old must be secured in a rear-facing car seat until the child exceeds the height or weight limit allowed by the manufacturer of the car seat, before moving to a forward-facing car seat. Children at least four who have outgrown a forward-facing seat may be moved to a booster seat until they meet the height and fit requirements for an adult safety belt. The safest place for all children is in the back seat.
Car seats and booster seats should be registered with the seat manufacturer. Parents and caregivers can view more information on car seat safety and locate a certified technician at www.nhtsa.gov/carseat, or at the SCDPS website, www.scdps.sc.gov/buckleupsc. The full South Carolina Child Passenger Safety Law is available at https://scdps.sc.gov/buckleupsc/safety_seat_law.           
A list of statewide child safety seat check events scheduled for CPS Week is provided below:
Troop 1:  

2:30 p.m. – 4:30 p.m., Monday, September 16, New Providence Elementary School (1118 Old Cherokee Road, Lexington, SC)
7:30 a.m.-9:30 a.m. and 4 p.m. – 7 p.m., Tuesday, September 17, Lexington Police Department (111 Maiden Lane, Lexington, SC)
3:00 p.m. – 5:00 p.m., Wednesday, September 18, Menchie's Frozen Yogurt (5580 Sunset Blvd., Lexington, SC)
2:30 p.m. – 4:30 p.m., Thursday, September 19, Meadow Glen Elementary School (510 Ginny Lane, Lexington, SC)
2:30 p.m. – 4:30 p.m., Friday, September 20, Lexington Elementary School (116 Azalea Drive, Lexington, SC)
11:30 a.m. – 4:00 p.m., Saturday, September 21, Good Samaritan Clinic (7915 Old Percival Road, Columbia, SC)

Troop 3: 11:00 a.m. – 4:00 p.m., Thursday, September 19, Anderson Fire Station 3 (111 Simpson Road, Anderson, SC)
Troop 4: 5:00 p.m. – 8:00 p.m., Thursday, September 19, York County Coroner's Office (933 Heckle Blvd., Rock Hill, SC)
Troop 7: 2:00 p.m. – 4:00 p.m., Thursday, September 19, Richard Carroll Elementary School (1980 Main Highway, Bamberg, SC)
---
The South Carolina Department of Public Safety includes the Highway Patrol, State Transport Police, Bureau of Protective Services, Office of Highway Safety and Justice Programs, Immigration Enforcement Unit and the South Carolina Law Enforcement Officers Hall of Fame. Our mission is to ensure public safety by protecting and serving the people of South Carolina and its visitors.