Fri, 11/22/2019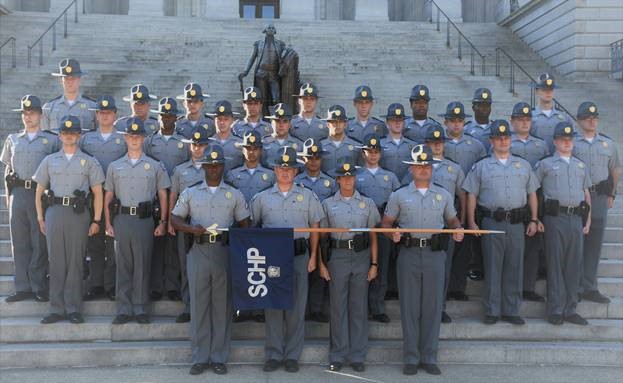 SCHP Basic 110
https://www.flickr.com/photos/schp/49090471786/in/album-72157711835314348/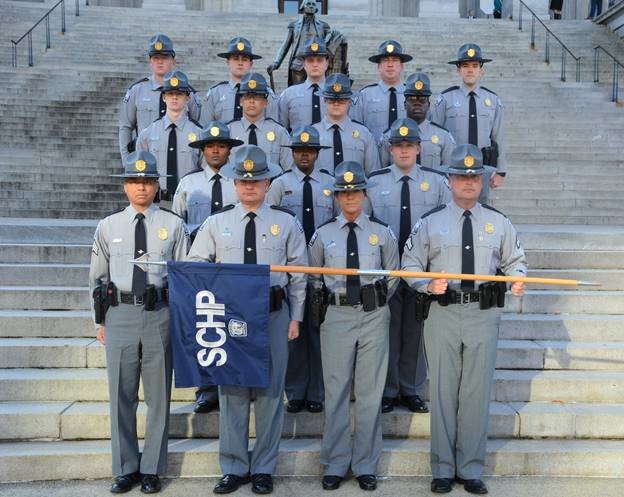 SCHP Basic 111
https://www.flickr.com/photos/schp/49104777076/in/album-72157711847983446/
Graduate photos, hometown, and county of assignment can be found here https://scdps.sc.gov/news/2019/schp/class110-111pictures.
Additional photos from today's ceremony will be posted on SCDPS Facebook.
SCHP HOLDS GRADUATION CEREMONY, WELCOMES 40 NEW STATE TROOPERS
COLUMBIA – The South Carolina Department of Public Safety held graduation ceremonies today for 40 SC Highway Patrol troopers from Basic Classes 110 and 111.
University of South Carolina President Bob Caslen was the keynote speaker.  
"It is an honor and a privilege to recognize these individuals as they begin their careers as officers of the South Carolina Highway Patrol," Caslen said. "There is no higher calling than public service, and our community stands in appreciation of their sacrifice and dedication."
The graduates of Basic 110 and Basic 111 bring the total number of troopers in South Carolina to 805 (including today's graduates and 39 in training). Seven of today's graduates were prior-certified officers. Troopers are assigned to areas based on population, calls for service, and the number of licensed drivers/registered vehicles in an area. The troopers from Basic 110 and 111 are designated to the counties found in the link above.
SCDPS Director Leroy Smith spoke to the graduates:
"You represent cities and towns from around our great state and beyond," said SCDPS Director Leroy Smith. "You bring new ideas, new promises, and new enthusiasm to an institution steeped in tradition but constantly evolving to meet a changing world."
SCHP Col. Chris Williamson reminded graduates that their oath of office represents "a noble and challenging undertaking that not everyone is equipped to take." "The words you will recite are a reminder that law enforcement holds the public trust," Williamson said. "We act with the authority afforded us by the people we have pledged to serve and protect." 
Special awards from Basic Classes 110 and 111 include:
Colonel P.F. Thompson Outstanding Achievement Award: For the trooper who displays the character and dedication symbolic of former Highway Patrol Colonel P.F. Thompson, the longest serving Patrol commander. Basic 110: Jason T. Toler, Hometown: Chesterfield; Assignment: Chesterfield/Lancaster; Basic 111: Ian W. Hughes, Hometown: Spartanburg; Assignment: Spartanburg.


Captain Cecil Dilworth Marksmanship Award: Presented to the trooper who demonstrated the best marksmanship during firearms training.  Basic 110: Trooper Jason C. Nichols, Hometown: Chester; Assignment: Chester/Fairfield; Basic 111: Jeffrey W. Griffeth; Hometown: Greenville; Assignment: Greenville.


Major Israel Brooks Jr. Physical Fitness Award:  Presented to the trooper who excelled on the physical training test and each day during the early morning exercises. Basic 110: Adam J. Gordy; Hometown: Beaufort, Assignment: Jasper/Beaufort; Basic 111: Derald W. Black, Hometown: Spartanburg; Assignment: Spartanburg.
For those interested in joining SCHP, visit the https://scdps.sc.gov/careers/sctrooper.
---
The South Carolina Department of Public Safety includes the Highway Patrol, State Transport Police, Bureau of Protective Services, Office of Highway Safety and Justice Programs, Immigration Enforcement Unit and the South Carolina Law Enforcement Officers Hall of Fame. Our mission is to ensure public safety by protecting and serving the people of South Carolina and its visitors.