Tue, 09/08/2020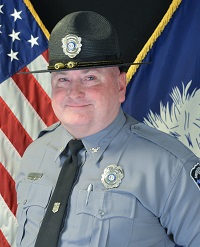 COLUMBIA — The South Carolina Department of Public Safety announced today that a new commander has been named for the State Transport Police following the retirement of Colonel Leroy Taylor after eight years as commander. Major Dean Dill was appointed to lead the law enforcement division, which oversees state and federal regulations regarding commercial motor vehicle traffic in South Carolina.  
"Col. Taylor has streamlined processes, reduced CMV fatalities and built strong relationships with stakeholders and federal partners during his time in leadership," SCDPS Acting Director Robert Woods, IV said. "I am proud to appoint Colonel Dill who knows the business processes of the STP division inside and out. His experience positions him well to provide strong leadership during this time of transition and beyond."
Taylor, who has served as commander of STP since 2012, announced his retirement will be effective September 17th.  Before joining STP, Col. Taylor served with the South Carolina Highway Patrol for more than 26 years, beginning in Telecommunications as a dispatcher. He served as Highway Patrol field enforcement major for Region One before he was named to lead STP in February 2012.
Colonel Dill has been with STP for more than 25 years, serving in enforcement and administrative capacities. He served as captain in headquarters overseeing operations for the last three years, and most recently as major as the STP executive officer. Dill is a graduate of the South Carolina Certified Public Manager program and has an Associate Degree in Criminal Justice from Spartanburg Methodist College.
Dill, a native of Spartanburg County, and his wife, Tonya, have three daughters. He and his family attend Newspring Church. His parents Dean and Wanda Dill reside in Spartanburg County.
---
The South Carolina Department of Public Safety includes the Highway Patrol, State Transport Police, Bureau of Protective Services, Office of Highway Safety and Justice Programs, Immigration Enforcement Unit and the South Carolina Law Enforcement Officers Hall of Fame. Our mission is to ensure public safety by protecting and serving the people of South Carolina and its visitors.