Mon, 05/17/2021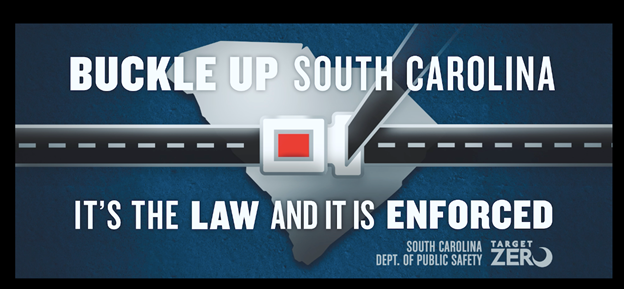 COLUMBIA- The South Carolina Department of Public Safety (SCDPS) and law enforcement partners statewide announce the kickoff of the annual Buckle Up, South Carolina (BUSC) enforcement mobilization on May 17, 2021. The special enforcement period will run from May 24, 2021 through June 6, 2021, and is supported by a paid media campaign.
"Memorial Day weekend begins the "100 Deadly Days of Summer" when we typically see fatalities increase on our roadways," said SCDPS Director Robert G. Woods, IV. "With travel forecast to increase this summer, our law enforcement divisions are urging motorists to take the simplest and quickest step to reduce fatalities on our roadways: buckle up and ensure every passenger is buckled up whether driving close to home or taking a summer road trip."
The BUSC campaign runs in coordination with the National Highway Traffic Safety Administration's (NHTSA) Click It or Ticket national seat belt enforcement mobilization through June 6, 2021. The annual campaign reminds drivers and passengers of the state's primary safety belt law (SC Safety belt Law | SCDPS) and to buckle up ahead of summer travel in the weeks before and after Memorial Day.
In an effort to curb fatalities, BUSC combines enforcement of state seat belt laws with a public education campaign on television, radio, and social media. The ads, created in 2020, feature a unique perspective of several different individuals and their milestones that were missed as a direct result of their loved ones not buckling up.
"So far this year, 259 of the 366 people who have died in motor vehicle collisions (with access to seat belts) were not buckled up," said SCHP Col. Chris Williamson. "We know seat belts save lives, and that is why our troopers will be placing an emphasis on safety belt and child restraint violations in an effort to keep motorists safe on our highways this summer."
State Transport Police Col. Dean Dill said that his officers will be focusing on ensuring commercial motor vehicle drivers are operating safely this summer, including buckling up.
"People often have the misconception that operators of large trucks are safe because of the sheer size of the vehicle," Dill said. "We will be working to educate drivers about the dangers of not buckling up and enforcing our state's primary seat belt law to help keep truckers safe as they transport goods across our state."
The BUSC campaign is part of the department's Target Zero umbrella, which guides all enforcement and education activities at SCDPS, and represents a long-term strategy to reduce and eliminate traffic fatalities in South Carolina.
---
The South Carolina Department of Public Safety includes the Highway Patrol, State Transport Police, Bureau of Protective Services, Office of Highway Safety and Justice Programs, Immigration Enforcement Unit and the South Carolina Law Enforcement Officers Hall of Fame. Our mission is to ensure public safety by protecting and serving the people of South Carolina and its visitors.