Tue, 07/06/2021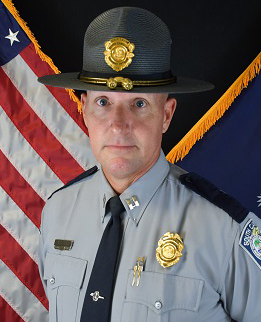 COLUMBIA, SC - The South Carolina Department of Public Safety has named Captain Christopher M. Shelton as Troop One Commander of the South Carolina Highway Patrol. Captain Shelton will oversee operations in Clarendon, Kershaw, Lee, Lexington, Richland and Sumter counties.
Shelton's lateral assignment follows the promotion of Everick Patterson, who had previously served as Troop One commander and was recently promoted to a field operations Major in Highway Patrol Headquarters. Shelton spent the majority of his career in Troop One but had most recently served in the SCDPS Office of Strategic Services, Accreditation, Policy and Inspections (OSAPI) before assuming this new role.
"Captain Shelton has had an outstanding career with the Highway Patrol," said SCHP Colonel Chris Williamson. "We look forward to seeing him return to Troop One -- a Troop he knows and understands well since he's worked his way up through the ranks and dedicated his professional career to the Midlands area."
Shelton started out as a Trooper in Florence County (Troop 5) in 1992; however, he spent a majority of his SCHP career in Troop One. It was during his tenure there that he received the honor of Trooper of the Year in 1997. Captain Shelton was transferred to his role in OSAPI in October 2020, shortly followed by his promotion to Captain in November 2020.
Shelton and his wife, Kelli, have two children, Bailey and Taylor.
---
The South Carolina Department of Public Safety includes the Highway Patrol, State Transport Police, Bureau of Protective Services, Office of Highway Safety and Justice Programs, and the South Carolina Law Enforcement Officers Hall of Fame. Our mission is to ensure public safety by protecting and serving the people of South Carolina and its visitors.