Tue, 11/23/2021
COLUMBIA — The South Carolina Department of Public Safety is reminding motorists to plan ahead for safe Thanksgiving travel. Troopers and officers from the South Carolina Highway Patrol and State Transport Police will be conducting special enforcement to help ensure motorists make it to their destinations safely during the official holiday travel period, which begins at 6 p.m. on Wednesday, November 24th, and ends at midnight on Sunday, November 28th.
AAA Carolinas is predicting a 13 percent increase in travel over 2020.
"Our troopers and officers will be providing extra enforcement and assistance to help ensure motorists make it to the Thanksgiving table safely, but we need everyone traveling to help us, too. Ensure your vehicles are in good working order before getting on the road; stay alert, and because travel is expected to be up this year, motorists should expect stop-and-go traffic in congested areas," said SCDPS Director Robert G. Woods, IV.
There were 1,334 crashes during the 2020 Thanksgiving holiday period, resulting in 14 deaths on South Carolina roadways. As of November 22nd, there have been 976 traffic deaths compared to 961 in 2020. Learn more on the South Carolina Fatality Dashboard. 
"Thanksgiving is historically one of the heaviest travel times of the year. We see traffic increase on interstates as well as highways and secondary roadways," said SC Highway Patrol Col. Chris Williamson. "The best advice our troopers can give motorists is to buckle up, reduce your speed, and limit distractions – whether you are driving across town or traveling long distances on the interstate."   
The department will also focus on commercial motor vehicle traffic safety. There have been 77 fatal collisions so far in 2021 in which a commercial motor vehicle was involved resulting in 90 fatalities.
"Our State Transport Police officers will be in high-crash corridors looking for any vehicle compliance violations and ensuring CMV drivers are buckled up and staying within posted speed limits," said STP Col. Dean Dill.  
Motorists may monitor traffic conditions anytime using the Department of Public Safety's Real-Time Traffic Information page.
SCDPS began airing a paid public service announcement on November 15th that emphasizes the dangers of distracted driving. The 30-second ad will appear on cable and connected television, radio and on social media.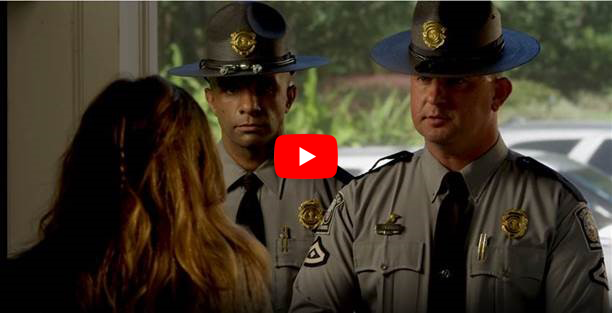 Scene from the Thanksgiving travel PSA
Welcome Center / Rest Area Safety Breaks
Who:               S.C. Highway Patrol Community Relations Officers (CRO)
What:             Troopers hold Thanksgiving holiday safety breaks when the public and media can speak with troopers, learn about safe travel and the dangers of holiday travel and view safety demonstrations
When:             10 a.m. to 3 p.m., Wednesday, November 24.
Where:           Locations around the state (see table):
| | |
| --- | --- |
| | |
| | Kershaw County, I-20 Rest Area, 93 mile marker Westbound (with rollover vehicle demonstration) |
| | Oconee County, I-85 Welcome Center at SC/GA line, 1 mile marker Northbound |
| | York County, I-77 Welcome Center at SC/NC line, 3 mile marker Southbound |
| | Laurens County, I-26 Rest Area, 65 mile marker Eastbound (with rollover vehicle demonstration) |
| | Orangeburg County, I-26 Rest Area, 150 mile marker Eastbound |
| | Dillon County, I-95 Rest area, 195 mile marker Eastbound (with rollover vehicle demonstration) |
| | |
---
The South Carolina Department of Public Safety includes the Highway Patrol, State Transport Police, Bureau of Protective Services, Office of Highway Safety and Justice Programs, and the South Carolina Law Enforcement Officers Hall of Fame. Our mission is to ensure public safety by protecting and serving the people of South Carolina and its visitors.