Fri, 05/06/2022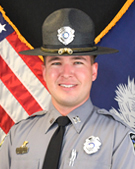 Columbia - The S.C. Department of Public Safety has promoted Stephen Holmes to Administrative Commander of the State Transport Police.
A division of the Department of Public Safety, STP oversees state and federal regulations regarding commercial motor vehicle traffic in South Carolina.
In his new role, Capt. Holmes will oversee the Size and Weight Enforcement program; motor carrier compliance; the new entrant unit; basic and advanced training; and the agency's Motor Carrier Safety Assistance Program grant. He will succeed Capt. P.R. McLean, formerly of STP, who was selected as the new SCDPS Inspections Commander in the Office of Strategic Services, Accreditation, Policy and Inspections.
"Capt. Holmes is extremely knowledgeable in federal motor carrier guidelines and well-respected by his peers within STP and beyond," said STP Col. Dean Dill. "He is one of the many up-and-coming faces at STP who represent the future of this agency."
After starting with STP in 2011, Capt. Holmes was promoted in November 2016 to Corporal in Region 4, which includes York, Chester, Fairfield, Cherokee, Union, Lancaster and Chesterfield counties. He was promoted to Sergeant in Region 4 in December 2018, and the Lieutenant at STP Headquarters in Blythewood in October 2020. In addition to his work at STP, Capt. Holmes is involved in the South Carolina Law Enforcement Torch Run for Special Olympics. He received his Bachelor's Degree in Sociology from Newberry College and resides in Clover with his wife, Mary Beth, and their two children: Harper and Hayden.
Photos available on the DPS Flickr album.
---
The South Carolina Department of Public Safety includes the Highway Patrol, State Transport Police, Bureau of Protective Services, Office of Highway Safety and Justice Programs, and the South Carolina Law Enforcement Officers Hall of Fame. Our mission is to ensure public safety by protecting and serving the people of South Carolina and its visitors.