Fri, 09/16/2022
The South Carolina Department of Public Safety has promoted James A. Segars to serve as Commander of Troop Five for the South Carolina Highway Patrol. Troop Five includes Horry, Florence, Marion, Darlington, Dillon, Georgetown, Marlboro and Williamsburg counties.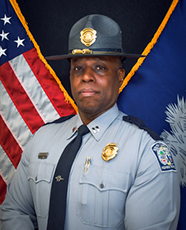 Captain Segars, who served as a lieutenant in Troop Five for nearly five years, was named Troop Five Commander to succeed Captain Greg Caulder, who is retiring at the end of September after 32 years with the Highway Patrol.
"Captain Segars has devoted 28-years of law enforcement service to the Troop Five area and I know he has worked hard to cultivate strong relationships across the Pee Dee. I know he's ready and willing to continue serving his community in this new leadership role," said SC Highway Patrol Colonel Chris Williamson.
Captain Segars is a native of Williamsburg County and began his career with the Highway Patrol in 1994 in Marion County. Before becoming a state trooper, Segars served honorably in the United States Navy for six years and worked in law enforcement for four years with the Williamsburg County Sheriff's Office.
---
The South Carolina Department of Public Safety includes the Highway Patrol, State Transport Police, Bureau of Protective Services, Office of Highway Safety and Justice Programs, and the South Carolina Law Enforcement Officers Hall of Fame. Our mission is to ensure public safety by protecting and serving the people of South Carolina and its visitors.