Fri, 09/16/2022
COLUMBIA — The South Carolina Department of Public Safety has named a new commander of the South Carolina Highway Patrol Telecommunications Unit.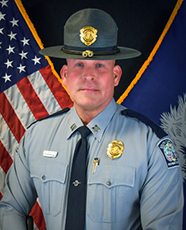 Lieutenant Darek A. McMurry is being promoted to the rank of Captain, effective September 14, 2022, to serve as the new Telecommunications Unit Commander. The Telecommunications Unit at SCDPS Headquarters in Blythewood oversees direct daily operations for the four state telecommunications centers (Blythewood, Greenville, Florence, and Goose Creek).
"We are pleased to have Captain McMurry, who is a 26-year veteran with the Highway Patrol, take command of the Telecommunications Unit," said South Carolina Highway Patrol Colonel Chris Williamson. "Captain McMurry has been instrumental in developing and implementing major enhancements to the Telecommunications Center over the past year and he is ready and willing to continue that path as the new Telecommunications Commander."
Capt. McMurry began his career with the Highway Patrol in 1996 in Berkeley County and has served as the Telecommunications Lieutenant for more than three years.
McMurry and his wife, Kim, have five children and they reside in Irmo, South Carolina. McMurry received an Associate's Degree in Criminal Justice from Midlands Technical College and has received the Clifford A. Moyer Marksmanship Award in 1996, the Trooper of the Year Award for Troop 6 Post B in 2005, and the Supervisor of the Year Award for Troop 6 Post B in 2012. McMurry was also part of a four-man team that won the National Police Pistol Competition in 2002.
---
The South Carolina Department of Public Safety includes the Highway Patrol, State Transport Police, Bureau of Protective Services, Office of Highway Safety and Justice Programs, and the South Carolina Law Enforcement Officers Hall of Fame. Our mission is to ensure public safety by protecting and serving the people of South Carolina and its visitors.