Wed, 11/16/2022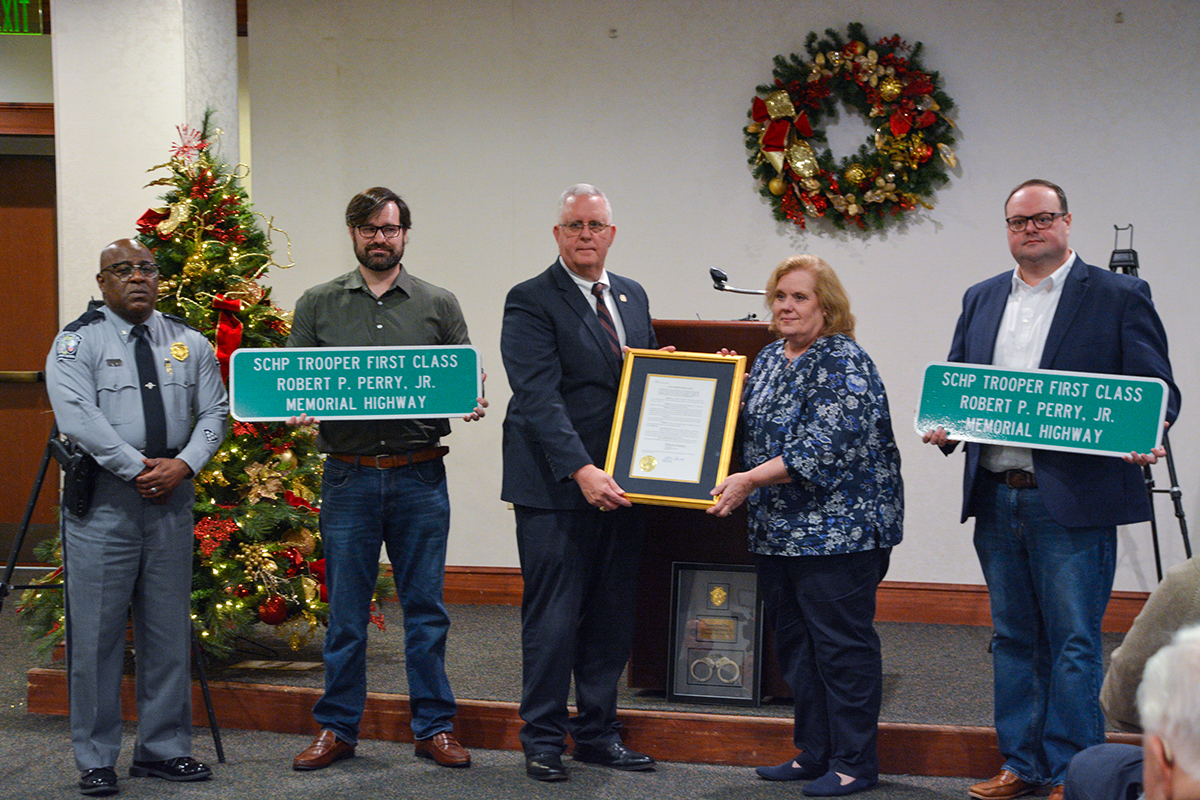 Columbia, SC -- Today, the SC Department of Public Safety held a highway dedication in honor of fallen Trooper First Class Robert P. Perry, Jr. who was killed in the line-of-duty on April 15, 1987, in Williamsburg County. The ceremony was held at the Town Hall in the Town of Lexington.
SCDPS was joined by close relatives, friends, and law enforcement and first responders.
The SC Department of Transportation formally unveiled highway signs designating the section of US-1 between I-20 and the Town of Lexington in Lexington County as the SCHP Trooper First Class Robert P. Perry, Jr. Memorial Highway. Perry was on duty in Williamsburg County when his patrol vehicle ran off the roadway while pursuing a motorcyclist. He died as a result of his injuries.
"Highways named after fallen troopers serve as a reminder that there are those out there that give their lives in service of others," said SCDPS Director Robert G. Woods, IV. "It's important that the public see and know the names of troopers like Trooper First Class Perry, whose life was cut short while serving and protecting the state of South Carolina."
Perry, a native of Lancaster County, was born on September 7, 1960. He joined the South Carolina Highway Patrol in 1983 and patrolled the roadways of Williamsburg County until his death. Throughout his four years with the Highway Patrol, he became known for his hard work and dedication to the job, often showing up early and working late.
"Trooper First Class Perry was a person who was committed to his work as a trooper," said Highway Patrol Colonel Chris Williamson. "He was proud to wear the Highway Patrol uniform and serve his community."
Trooper First Class Perry was survived by two sons, Paul and Jason; sister, Lea; and mother, the late Ruth Wilkerson Perry. He is buried at Lancaster Memorial Park
---
The South Carolina Department of Public Safety includes the Highway Patrol, State Transport Police, Bureau of Protective Services, Office of Highway Safety and Justice Programs, and the South Carolina Law Enforcement Officers Hall of Fame. Our mission is to ensure public safety by protecting and serving the people of South Carolina and its visitors.