Tue, 12/13/2022
Today, Spartanburg Community College and the South Carolina Department of Public Safety (SC DPS) announced an innovative partnership in which SCC's Giles Campus will become the new headquarters of South Carolina Highway Patrol's Troop 3, Post D, in 2023.   
"We are honored to enter into this partnership with Spartanburg Community College," said SCDPS Director Robert G. Woods, IV. "This relationship between the Department of Public Safety and a higher learning agency is the first of its kind and we hope that it will help pave the way to more partnerships that are beneficial to both state and local communities."  
"Chasers helping Chasers, as we have affectionately referred to this partnership, is an example of one of the numerous ways Spartanburg Community College innovatively provides for the communities we serve and will make our Giles Campus one of the safest college campuses in the state," said Dr. Michael Mikota, President of SCC. "We must have safe and secure communities in order to learn, grow, and prosper.  We thank our brave campus police officers, applaud the leadership of Chief Powers, and celebrate the initiation of the SC Highway Patrol into the SCC Chaser Family."  
The mutual agreement was a solution offered by SCC's Chief of Campus Police, Richard Powers, Ph.D., to address issues of space for the troop's post at its previous location. This collaborative partnership optimizes state resources in an innovative way to benefit students, faculty, staff, and taxpayers.   
The new headquarters on the SCC campus will include more office space, a conference room, and space for members of the general public to speak with a trooper in private. 
"The Highway Patrol is grateful that SCC leadership has opened their doors to us," said Captain Kevin Brown, Commander of Troop Three for the SC Highway Patrol. "After more than 40 years at the Fairforest Road location, troopers in Troop 3, Post D are looking forward to more office space and the capabilities this allows. We also expect that the presence of our troopers on campus will help to enhance the safety of students and faculty alike."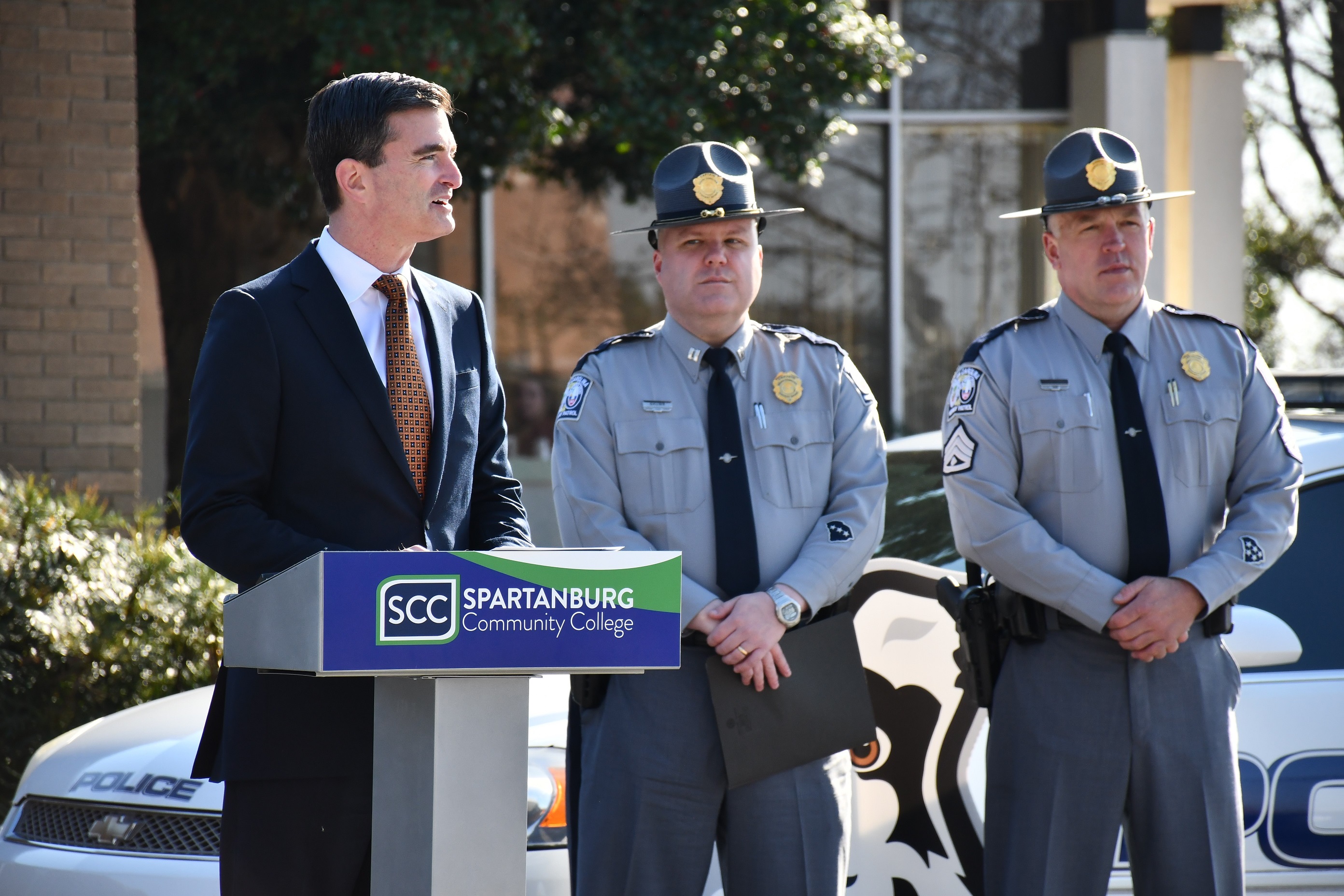 ---
The South Carolina Department of Public Safety includes the Highway Patrol, State Transport Police, Bureau of Protective Services, Office of Highway Safety and Justice Programs, and the South Carolina Law Enforcement Officers Hall of Fame. Our mission is to ensure public safety by protecting and serving the people of South Carolina and its visitors.