Tue, 07/06/2021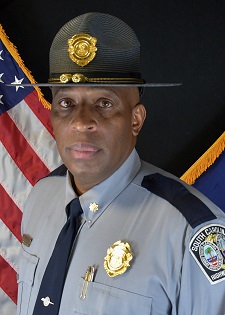 Columbia - The South Carolina Department of Public Safety has promoted Everick Patterson to Regional Field Major of the South Carolina Highway Patrol, effective June 29, 2021.
In his new role as Field Operations Major, Major Patterson will oversee Troop One (Clarendon, Kershaw, Lee, Lexington, Richland, Sumter); Troop Two (Abbeville, Edgefield, Greenwood, Laurens, McCormick, Newberry, Saluda); and Troop Seven (Aiken, Allendale, Bamberg, Barnwell, Calhoun, Hampton, Orangeburg).
"We are truly fortunate to have a leader with Major Patterson's extensive knowledge of the Highway Patrol –from the training, administrative, and enforcement sides," said SCHP Col. Chris Williamson. "This diverse experience positions him well to help guide our field operations."
Patterson, who has served with the Highway Patrol for 24 years, was promoted to Major on June 29, 2021. He was previously the commander over SCHP Troop One since June 2, 2019, a position he held at the rank of Captain. Patterson's promotion to major followed the promotion of Lt. Col. John T. Manley to the position of Deputy Commander of Operations.
An Eastover native, Patterson began his law enforcement career as a Richland County deputy in 1995 after serving active duty in the U.S. Army from 1985 - 1995. He joined the Highway Patrol in 1997, followed by several promotions in the SCHP Training Unit and Troop One. He and his wife, Terry, have two children.  
---
The South Carolina Department of Public Safety includes the Highway Patrol, State Transport Police, Bureau of Protective Services, Office of Highway Safety and Justice Programs, and the South Carolina Law Enforcement Officers Hall of Fame. Our mission is to ensure public safety by protecting and serving the people of South Carolina and its visitors.