Tue, 09/14/2021
MEDIA: The following link includes the roster, press release and individual trooper photos as well as award winners:  https://scdps.sc.gov/news/2021/schp/class115-116-117pictures
Basic 115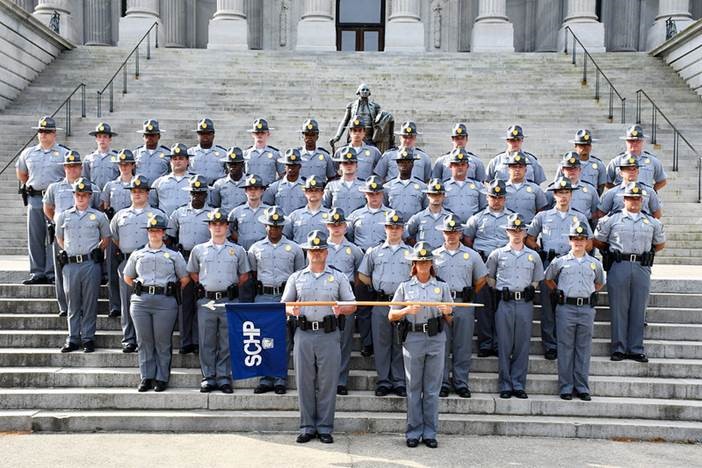 Basic 116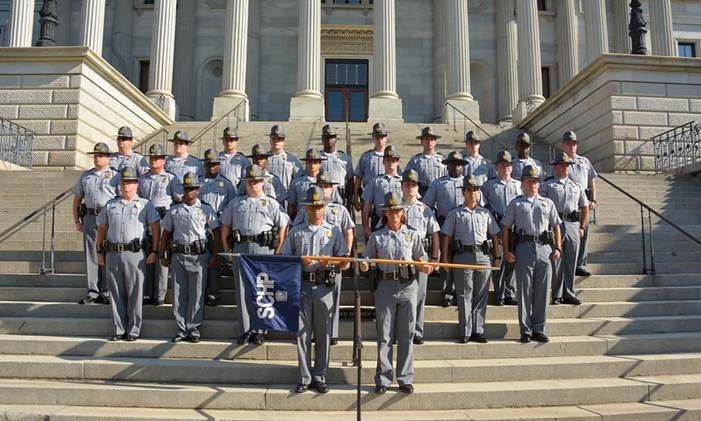 Basic 117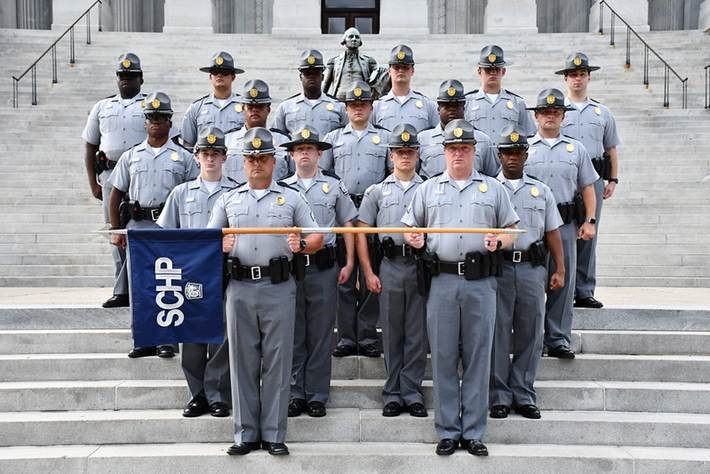 COLUMBIA -- The South Carolina Highway Patrol held a virtual graduation ceremony today for 66 troopers from its Highway Patrol Basic Classes 115, 116, and 117.
The three graduating classes include five prior-certified officers and 61 who are new to the law enforcement profession. The graduation of these three classes brings the total number of troopers in South Carolina to 778 (including today's graduates and 13 troopers currently in training).
"These men and women go to their communities ready to serve our great state with the principles that have been instilled in them throughout their training and the Highway Patrol tradition," said SCDPS Robert G. Woods, IV. "Our graduates have a tremendous opportunity to impact driver behavior and make a difference out there every day they put on the uniform."
Troopers are assigned to areas based upon population, calls for service, and the number of licensed drivers/registered vehicles in an area. To see where the troopers from Basic 115, 116, and 117 are assigned, review the information in the link that includes their Troop assignments and photos: https://scdps.sc.gov/news/2021/schp/class115-116-117pictures.
"We have a great duty to uphold the law in a fair and equitable manner and commit ourselves to serving others with the highest level of professionalism," said SCHP Col. Christopher Williamson. "I urge our graduates to consider their oath daily and reflect on their core values of selfless service, integrity and responsibility."
Special awards from the Basic Classes 115, 116, and 117 classes include:
Major Israel Brooks Jr. Physical Fitness Award:  Presented to the trooper who excelled on the physical training test and each day during the early morning exercises. 
            Basic 115:   Thurman R. Lofton                  
            Basic 116:   Andre M. Colon                                                     
            Basic 117:   Carlo M. Rouse, Jr.
Captain Cecil Dilworth Marksmanship Award: Presented to the trooper who demonstrated the best marksmanship during firearms training.
            Basic 115:   Darius R. Brown                                                                                                    
            Basic 116:   Andre M. Colon                                                     
            Basic 117:   Austin T. Chapman
Colonel P.F. Thompson Outstanding Achievement Award: For the trooper who displays the character and dedication symbolic of former Highway Patrol Colonel P.F. Thompson, the longest serving Patrol commander.
           Basic 115:    Jeremiah Fogle, II
           Basic 116:    Andre M. Colon                                                     
           Basic 117:    Samuel S. Lawson
For those interested in joining SCHP, please check out the qualifications to apply at https://scdps.sc.gov/careers/sctrooper.
---
The South Carolina Department of Public Safety includes the Highway Patrol, State Transport Police, Bureau of Protective Services, Office of Highway Safety and Justice Programs, and the South Carolina Law Enforcement Officers Hall of Fame. Our mission is to ensure public safety by protecting and serving the people of South Carolina and its visitors.